Tomato Basil Tofu
Review Posted on October 16, 2015
Tofu has been added into the directions. Thanks for noticing that!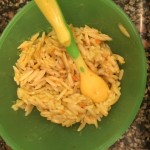 Orzo with veggies/cheese
Review Posted on May 16, 2015
This recipe was a hit with our whole family. I didn't have a lot of the veggies, so I made this recipe with carrots, onions, and broccoli. I also added some chicken breast. My kids ate it as is, and I just added some Tabasco for my husband:) I'm definitely including this in our rotation.